Dental implants bring back functionality and aesthetically restore your smile. They can be used to replace any amount of missing teeth while reinforcing the integrity of the bone and enhance your everyday life back to a normal and comfortable state. Be it one tooth, or an entire arch of teeth, implants provide the opportunity to get your smile back.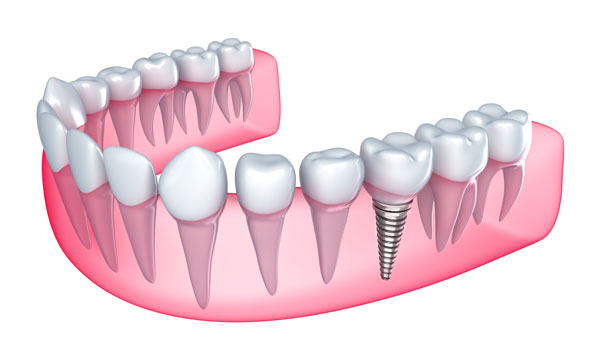 There are many advantages to dental implants, including:
Improved appearance. Dental implants are put in permanently, fusing with the jawbone to make your mouth feel familiar and comfortable again. It renews the confidence and esteem in knowing you have a full, healthy smile again.
Ease of eating. Since dental implants feel like the natural teeth they replace, eating without pain becomes a normal and welcome adjustment.
Durable. With proper care, many patients have their implants last a lifetime.
Convenience! Dentures need to be removed to be cleaned, require adhesives to stay in, and can sometimes come out unexpectedly. Implants remove all of these circumstances.
Improved speech. Dentures can slip and crowd the mouth, making speech more difficult and thick. Implants will return the mouth to a regular state that provides the ability to speak clearly and comfortably.
Improved oral hygiene. Implants don't interfere with other teeth the way other means of teeth replacement does. For example, bridges affect other teeth over time. Implants don't need to reduce teeth around them, keeping them full and intact and healthy.
How do dental implants work?
Dental implants are replacement tooth roots. Implants provide a strong foundation for fixed (permanent) or removable replacement teeth that are created to match your original teeth. After being placed into the jawbone, osseointegration begins, a process where the fixtures fuse with the natural bone to create a permanent home for your implants. This will take approximately four months.
Not only will the implants return the mouth to its natural habits of use, this also allows the jaw and muscles to return to their original state as well. This process also helps all remaining natural teeth because they are given extra stability from the implants, preventing their movement and the breakdown of the bone's integrity. This will promote a refreshing level of jaw health and prolong your overall oral health that may have once felt lost forever.
Success rates of dental implants vary, depending on where in the jaw the implants are fused. Dental implants have a success rate of up to 98%. With proper care, implants can last a lifetime.
Who qualifies for a dental implant?
Patients who are in good general and oral health are considered to be preferable candidates. The amount of bone in your jaw needs to be capable of supporting the implant, as well as healthy gum tissues that have no sign of periodontal disease. The planning of the overall procedure will be conducted through the extensive teamwork in our Fort Worth Dentist office . The special knowledge, training, and technology that the office is equipped with help to prepare us for these types of procedures. Feel free to call and discuss the dental implant options available today.