35 Things to Ask for on Valentine's Day Instead of Chocolate
Though candy is a pretty popular Valentine's Day gift, making up to almost 48% of all gifts given on this love-struck holiday, it's not the best for your teeth. So we've gathered up a list of 35 other things you can ask for instead.
A Membership to the Dollar Shave Club.
A day pass to a shooting range, one day fishing license, or a golfing range fee, plus guilt free time to enjoy it.
A spa manicure or pedicure.
The traditional rose bouquet or a funky, fun one with tie dyed or colored flowers.
Adult board games like Rotten Apples or something more family friendly yet challenging like Suspend by Melissa and Doug. Both are sold at Target. These are great for making memories after Valentine's day!
A one of a kind e-card featuring you! "Let's get it on" Jib Jab cards are hysterical or try one of their six others featuring classic love songs of the last century.
A Man bouquet, that is a beer pack. Doll it up for the funny effect, wrapping "petals" or fancy hair scrunchies around the bottle tops like the one shown below by 30minutecrafts.com.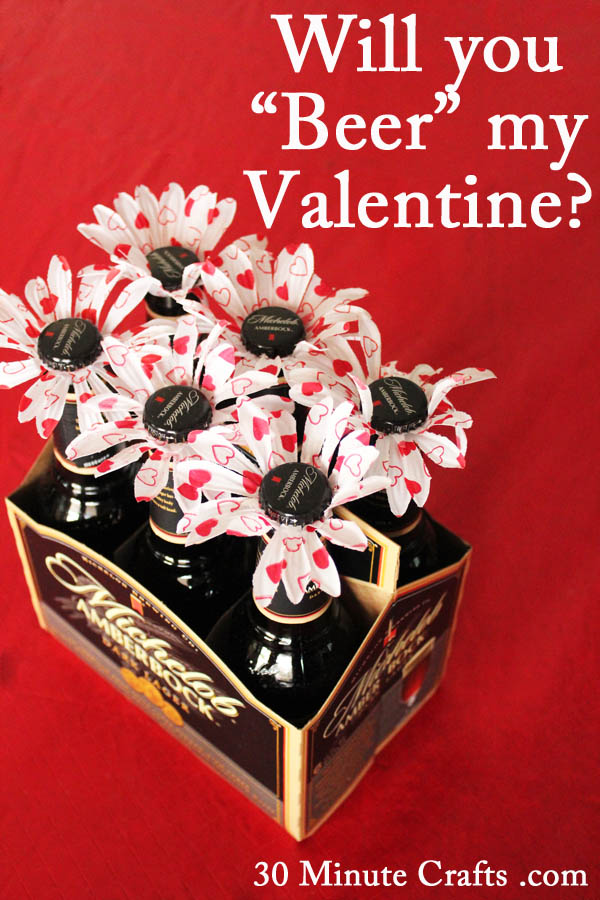 Refills for favorite toys or hobbies, such as ammunition, batteries, gift cards for app games, model glue or paint, golf tees, tackle or bait, scrapbooking paper or stickers, beads or clasps for jewelry making, etc…
This super romantic Silver and 24k gold I love you in 120 languages necklace on Amazon.
Romantic hot air balloon ride for two (just ignore the one manning the trigger during those soulful moments.)
Dance Lessons for whichever exotic or expressive style you've always wanted to learn.
Professional teeth whitening for that perfect smile.
An intimate gondola cruise will seem like a European getaway without the price tag. Check out this Fort Worth option.
Spice up your relationship with a cooking class. Laura's Natural Kitchen offers healthier recipes at the Hattie May Inn or  get more technical at the Culinary School of Fort Worth.
Kissing Coupons, cashed in often on Sunday.
Cutting the Artisan Cheese, via a wine or beer and Cheese Tour of course! The Mozzerella Company in Dallas offers factory tours, pairings and cheese making classes, and culinary adventures to Ireland and Tuscany!
One of a kind wrist watch, or pocket watch if he's into that kind of thing.
An electric towel warming rack like this one from Amazon for those chilly texas nights… or just because its cozy.
A hammock, either an indoor seating option or a lounging style one to enjoy your yard. If you chose a 2 person, then you can cozy up with your Valentine.
Wireless Remote Electronic Key Finder to aid with perpetual forgetfulness.
This Laser Projection Virtual Keyboard on Amazon is great for easily messaging your family and friends without getting carpel tunnel in your thumbs.
Fan gear like a 1999 R2D2 ice chest, Marvel Hulk Stink Bombs, and Captain America dog tags
That expensive perfume or colgone you've had your nose on in magazines and in stores for months.
Get your fondue on! Depending on the atmosphere your craving, Simply Fondue or The Melting Pot in Fort Worth are both great options.
An addition to your collection of favorite T.V. shows, movies, or musician and any affiliated fan products.
A telescope for a night of star gazing, complete with a picnic. You can even have a star named after you with the Star Registry.
Are you a horror movie fan? Ask for a Twisted Love Haunted House admission ticket, and get your scare on!
Time travel to the Roaring 20s at the Hearts in the Park event Saturday, February 13th. Dress up, dance to some old tunes, get crafty, and enjoy sweet treats from 3-6pm.
A lucky horseshoe or two molded into something special, like a wine rack, religious symbol, wind chime, or personalized wedding date reminder plaque.
A snuggie. You know you always wanted to try one, and now's your chance.
Speaking of trying things, there's that no-no hair remover to remove all those random black hairs on your neck and chin or your natural sideburns.
If you love bubble baths and books, the Bath Tub Book Caddy found on Amazon would be an awesome gift to get.
Tickets to a concert or sporting event such as the Rockets, Rangers, Spurs, Longhorns, Texas Motor Speedway.
Movie Tickets and Popcorn. What mood are you in? Romantic? Choose The Choice. Funny? Crack up at The Sisters or Zoolander 2. Want some action? The new James Bond movie Spectre could hit the spot.
That doodad you've seen on infomercials and wondered about. Of course your sweetie might have to book it to an As Seen on TV Store this close to Valentine's Day.