At-Home Teeth Aligners—Everything You Should Know
We live in a time of convenience—or, at least, the eternal quest for it by the looks of the ads on TV. We lead busy lives, but today, the ability to have your groceries, laundry, dog walking and a whole host of other services delivered to your door at a moment's notice can give you more time for your family, work, or the other tasks on your ever growing to-do list.
The health industry hasn't been immune to the shift to at-home services. Tele-medicine services are a special example, offered today with many health plans. This allows you to stay in the comfort of your own home while talking to a doctor via video chat. When you are sick, some pharmacies will even deliver your medications.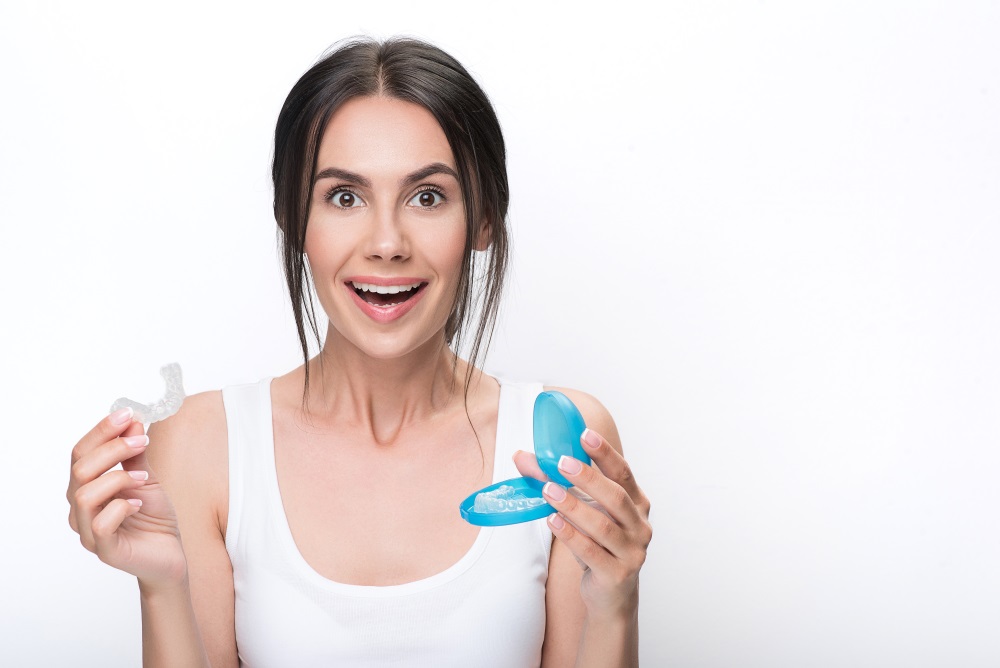 In the dental industry, at-home orthodontics have also taken hold. You've probably seen commercials on TV advertising at-home teeth aligners, for instance. The ads boast how cost effective this method is and highlight how you don't even have to visit the dentist.
Before spending serious money on these at-home treatments, however, Dr. Ku wants to remind you that it's important to visit your dentist and discuss your options prior to diagnosing and treating yourself for anything. Just like when you're sick and you look up your symptoms on WebMD and come up with a list of terrifying possible ailments, trying to treat crooked teeth at home could have some painful and unfortunate consequences. You might be treating the wrong issue that ultimately results in more time and money to fix. If you are in Fort Worth and have any questions, give our office a call today!  
How do at-home aligners work?
If you have crooked teeth but don't want to commit to traditional wire-and-bracket braces, then you might have been excited to learn about Invisalign and other custom tray aligners that can be used to slowly move your teeth. This technology has shaken up the bracket-and-wire braces world and spurred one of the greatest dental advancements of our time.
Invisalign relies on removable trays that, through a careful process, provide alignment correction of the teeth. Unlike traditional braces that rely on brackets and wires, Invisalign is made from clear, flexible plastic that fit snuggly over the teeth. This product is FDA-approved and is made from a patented thermoplastic.
To ensure that aligners stay fresh, patients brush them every morning and night. Many wearers forget they have them on during the day since they are so discreet. In fact, many professionals wear them to meetings and presentations without anyone even realizing.
You've heard us talk about Invisalign before, though. You know our office offers the treatment. So what's the at-home version of self-treatment teeth aligners and how do you get sized for trays?
Doesn't sound complicated, right?
Unlike other dental procedures that you'd never want to try at home (hello, root canal!), many people view at-home teeth straightening as "no big deal." When patients choose an in-home option, it's important to remember that they won't have access to regular-used procedures like x-rays and digital scans unless they choose to make dental appointments of their own volition.
Another technology patients can get access to with occasional check-ups at the dentist includes 3D imaging software, used to map out each patient's mouth and create custom aligners that slowly transform bite over time. This imaging software has helped propel the era of digital dentistry for other treatments, too. Previously, dentists relied on physical impressions that many patients dreaded and found uncomfortable. By taking treatment planning digital through new tech and software, dentists are now able to ensure that human errors and botched physical impressions no longer slow the process down or add time to the treatment schedule.
The do-it-yourself method of at-home teeth alignment treatments instructs the patient to take pictures of their teeth, bite down to make an impression, and then wait for their aligners to arrive in the mail. This creates a significant margin of error. You can only talk to a dentist remotely using these new at-home services—you never see anyone in person. This could result in serious complications and injury that could have been prevented.
Lack of patient interaction
The lack of patient interaction with at-home treatments is worrisome. Not all patients are candidates for a tray-based alignment option in the first place. Prior to clearing a patient for tray-alignment treatment, a dentist needs to identify and treat serious oral health concerns before they even consider offering their patients orthodontic treatment. This is why they do a comprehensive exam before making a recommendation. Serious oral health problems like gum disease or cavities can be overlooked with at-home kits because there's not a whole lot you can see from a photo and a putty impression.
After any treatment starts, it's important to have regular follow-up appointments with your dentist. With mail order aligners, teeth might move slower or faster than anticipated. You could develop gum disease or cavities during your treatment, too (like anyone can at any time), and with no orthodontist or dentist treating you you'll be none the wiser until the problem is severe.
Using at-home teeth aligners, there is always the possibility that your teeth will end up in worse shape than when you started. This can even include teeth falling out, cuts to the gums, and an inability to close the mouth or chew properly.
If you have lingering questions or curiosities, give our office a call! We would be happy to discuss your particular case.