Tooth Whitening in Fort Worth
Have you, at least once, examined your teeth in the mirror and wondered how they'd look just a little bit whiter? 
You clearly aren't alone. In fact, the market is flooded with teething whitening products. So, how do you know which one is best or most effective? 
If brushing and flossing don't seem to be doing enough to make your pearly whites glitter, teeth whitening is a popular and accessible option to consider. To help you figure out where to begin, the experts here at Dr. Ku's office have provided you with a quick overview of popular options on the market. If you have more questions or want to schedule an appointment, don't hesitate to give us a call today!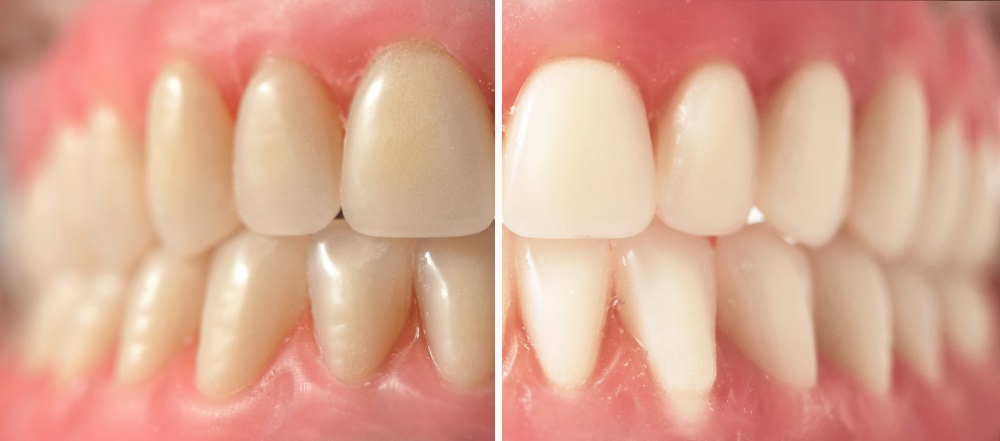 Benefits of tooth whitening  
The popularity of tooth whitening has boomed, making it the most popular form of cosmetic dentistry today. Professional tooth whitening removes stains and brightens your smile, resulting in a lighter shade of teeth. Many patients come in for whitening before important interviews or big events like a wedding. This quick–and–easy procedure leaves patients more confident about their smile and overall appearance. 
The myths 
Just like with other treatments, there are many myths floating around (especially on the internet) that have dissuaded some patients from trying tooth whitening. There are even urban legends that promise home remedies yielding the same results as treatments performed by a dentist.  
Before going down the DIY path, it's important to know what won't work—and what could be potentially harmful to your mouth. 
First, ignore any treatments that rely only on baking soda or hydrogen peroxide. When these chemicals are introduced into the mouth, they can react negatively and distort your natural pH balances. 
Another common misconception is to use the strongest whitening gel on the market to get the fastest results. While these may speed up the process, over-strength products or excessive applications are also associated with increased tooth pain and sensitivity later. It's important not to fall into the traps of these common misconceptions! 
What to expect 
Great! You've decided you want to get your teeth whitened, now what should you expect? 
First, talk to your dentist about what type of whitening is best for your teeth. There are advantages and disadvantages to bleaching and laser treatments, and it's best to discuss these options with your dentist. If you choose teeth bleaching, you'll be fitted with a custom mouth tray for the treatments. These treatments can be done at home; however, it could require several office visits to ensure the amount of whitening solution applied is correct and you are reaching your desired outcome. 
Laser bleaching is great option for patients who want to be done in one visit. At the office, a bleaching agent is applied to your teeth and a laser is used to activate energy-absorbing crystals that penetrate the teeth enamel and produce a brightening effect. While this method is often more expensive than others, it is the quickest and ensures the most noticeable results.  
If this is something you are considering, don't let this opportunity pass you by. The end of the year is a great time to get your teeth whitened (just in time for the holidays)! If you have unused funds in your FSA or HSA, these treatments could qualify. Don't leave any benefit unused at the end of the year. Or, if you are looking for the truly unique, but much–appreciated stocking stuffer, giving the gift of tooth whitening is a great option. Call our experts at Dr. Ku's office today to make your appointment and ring in the new year with a brighter smile!