Who Wants to Be…A Dentist?!
The spring season ushers in college acceptance letters. Students begin making final decisions on majors. Graduate school deadlines loom near, too. This can be a stressful time for both students and their families as decisions are made that point toward life-long careers once school is done.
Here are at Dr. Ku's office in Fort Worth, we aren't above putting in a shameless plug for dentistry as an area of study. The field offers opportunities, challenges, and rewards that thousands of new dental students take on every year. In fact, U.S. News and World Report ranked dentistry as #2 on its list of the top 100 careers for 2020. It's a rapidly changing and expanding profession, too.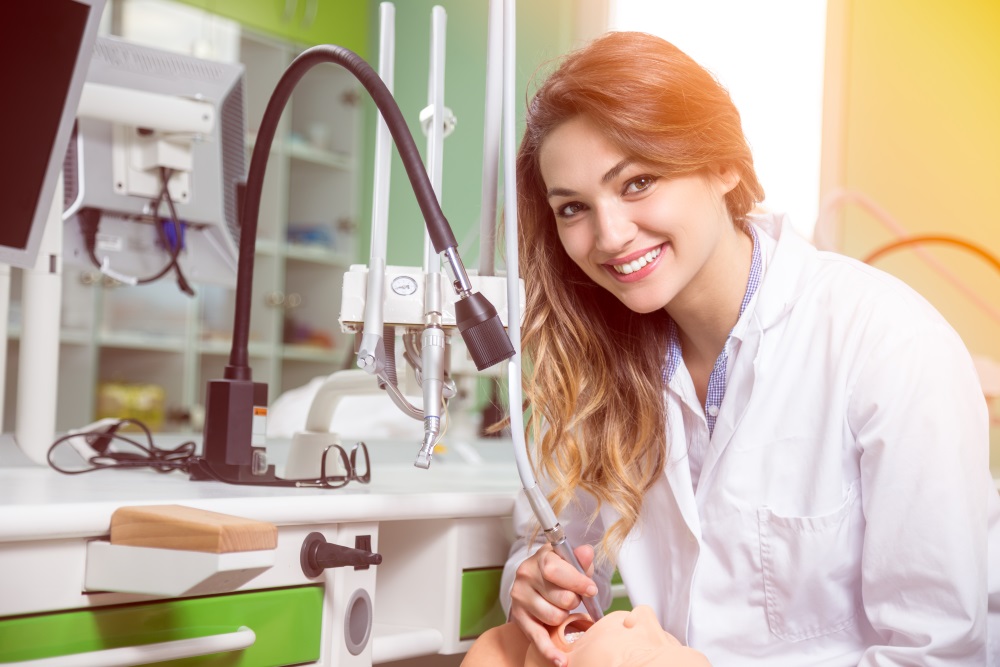 If you are interested in learning more about becoming a dentist or the opportunities that could afford you, keep reading! We're always looking for more good folks to join our ranks!
What should I expect if I want to study dentistry after undergrad?
While any science-related major might be accepted when you applying to dental school later, students typically have to complete a set number of specific classes related to their continued studies. Since dentists are considered practicing physicians and dentistry is a subspecialty of medicine, biology, chemistry and physics are among the popular degree programs that meet dental school admissions requirements.
Students who choose to major in biology, specifically, could acquire knowledge of various diseases through the study of topics such as cell biology, ecology and immunology. Chemistry majors, on the other hand, might learn about chemical compounds and elements.
After earning a degree in an appropriate undergraduate field, you must then apply for dental school. Prior to applying, students take the Dental Admissions Test (DAT), which is a timed, multiple-choice exam conducted by the American Dental Association (ADA). The DAT measures the general academic ability, scientific comprehension, and perceptual ability of each student.
There are over 65 dedicated dental schools in the United States (including three in Texas). Each program is evaluated for its content and quality. Typically, DDS/DMD programs take four years to complete with a few additional years for dental specialties like Oral and Maxillofacial Surgery or Pediatric Dentistry.
Paying for dental school can be daunting. Fortunately, a wide range of scholarships are available to help students pursuing careers in dentistry to meet the rising costs of college tuition. These scholarship programs are sponsored by federal and state governments, professional dental associations, and colleges and universities across the country.
If you are particularly interested in practicing in rural areas, the National Health Service Crops and their scholarships might be a fit for you. This is an award-for-service program, and eligible students will receive a full tuition scholarship, including stipends for books and housing, in exchange for a service commitment working in an under-served community or under-staffed medical facility.
If you are looking for a different post-graduate experience, professional organizations such as the American Dental Education Association also offer scholarship opportunities. And remember, you can always check with the school you're admitted to. There might be specific opportunities there as well.
Once a student graduates a post-graduate dental program and passes the state-administered board exams, he or she is able to treat patients. These state-run exams certify that the minimum standards for training and competency have been completed and met.
Dentists also generally pursue additional training by completing residencies and other postdoctoral education. Those who want to continue providing general dentistry care can learn about advanced topics in that field, and still others might become certified in a dental specialty. The American Dental Association recognizes nine dental specialties, including:
Dental public health
Endodontics
Oral and maxillofacial pathology
Oral and maxillofacial radiology
Oral and maxillofacial surgery
Orthodontics and dentofacial orthopedics
Periodontics
And prosthodontics.
Each specialty has its own board that certifies dentists who meets education, training, and examination requirements.
Endless options
While the majority of dentists go into private practice (like Dr. Ku in Fort Worth), one huge benefit in dentistry is that there are a number of options after graduation. Dentistry offers a wide range of clinical, research and academic opportunities to both new graduates and practiced dentists at any stage of their careers.
Public health dentistry is another field that the American Dental Association has reported has gained popularity. This career focuses on community settings rather than private practices. Promoting dental health, developing health policy and preventing disease are the major roles of a public health dentist. Numerous opportunities exist in research and teaching within public health dentistry, too. For instance, the U.S. Public Health Service offers dentists an opportunity to provide dental care in unique cultural environments (e.g., at an Indian Reservation, a Coast Guard base, or a federal prison).
What about other dental specialties?
While dentistry is technically already a subspecialty of medicine, about 20% of dentists choose to specialize further within dentistry itself. If you choose to specialize, it generally requires an additional two years of school after the four years of dental school.
Added bonus: maintain flexibility
Depending on the field or type of practice you choose, dentistry can come with flexible schedules, too. While this isn't the case for everyone, because there are a number of different career and practice options in dentistry, practitioners can choose what kind of lifestyle they want to lead—and often what hours and days they will work. In addition, many dentists also consider themselves business owners. This allows people to pursue their entrepreneurial aspirations while also being a dentist!