Conquer Nervousness at the Dentist
As a parent, there are certain things you dread: your child's first date, teaching them how to drive, high school graduation, and the semi-annual trip to Dr. Ku's office. Even though you do your due diligence to choose a practitioner that is both an expert in the field and skilled with dealing with common anxieties, it never seems to be enough when you're facing down your bi-annual appointments for your child. Some parents go for bribes, others threaten to take away privileges; while I, on the other hand, not being a skilled negotiator decide to use humor to get my six-year-old daughter through her semi-annual exam.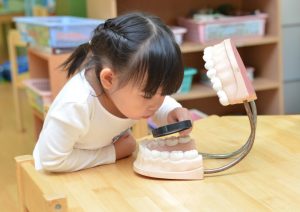 I could tell she was putting on a brave face when we walked in, but in the exam room Madison's fear started to break through. To lighten the mood, I grabbed a glove from the box and blew it up to make cow utters. That only got me a small giggle. Fueled by a mother's desire to make it all "alright," I tied off the top of glove and batted it around the small room. Her giggles began to build. "Perfect," I thought to myself, "I am really nailing it over here." For my final act, I decided to fill the glove with a little water and "milk" it over the sink. I carefully filled up the inflated glove and went into a full theatrical performance of milking. By this point, I had Madison where I wanted her, laughing hysterically and completely void of fear. 
Of course, we were only waiting for the dentist—her cleaning hadn't even started yet. 
This is the point where I should have stopped and made sure we were both calmed down before the dentist entered. However, my secret desire to be a comedian pushed me to take my act one step further. Right before emptying the glove, I quickly spun around to squirt Madison with the water. Unfortunately, right at that moment the dentist walked in, and in my surprised state, I missed my daughter and nailed the dentist. Madison and I stared at each other in stunned silence while the dentist examined his damp scrubs. He didn't find it quite as funny—but, somehow, our embarrassment and his severity kept Madison still for the entire appointment! 
While this isn't the way I would have ever planned (or imagined!) getting Madison comfortable, after the dentist assured her that the mishap was "just fine," suddenly there wasn't the sense that our dentist was such a scary authority figure. While my glove-balloon days are over, Madison and I still laugh about that day at the office. 
While dousing the dentist with water might have helped ease Madison's anxieties, there are much better, and less embarrassing, ways to help your child get over their fear of the dentist.
Below are five easy steps to help your kids be prepared for a dentist visit: 
Baby Steps

It's recommended that your child visit the dentist as soon as their first teeth start to pop through. By starting early, your child will become familiar with the setting and the practitioner. In addition, establishing a dental home at a young age will set them up for a lifetime of great oral health.
Talk About It

Many times, the worst part is the anxiety about what will happen. Take the time in the days leading up to have an age-appropriate conversation about what is going to take place. If you think your child could act out during the appointment, this would be a good time to set expectations as well.

Attend an Open House

Some dentists allow patients to visit their practice prior to becoming a patient. If you are changing dentists, visiting the practice and speaking with dentists and other staff in a non-appointment setting could ease fears. In addition, your child will know where they are going, and be a little more familiar with any sights and sounds they might encounter on the day of the appointment.

Keep Your Fears to Yourself

While you might feel enticed to share your own fears about the dentist, try to not project additional fears on your child. Don't use this time to discuss your own extractions or cavities, since this could create more fear in the child.

Avoid Bribery

While everyone loves a treat to look forward to, offering a bribe could indicate to a child that something bad or painful is going to happen first. If your child acts appropriately (remember, this varies by age), then consider a surprise after for good behavior. Try to not link the actual act of getting dental work with a prize at the end.