Travel Hacks for Winter Getaways
Traveling can be hard, much though we're excited to do it. With kids' stuff and the right clothing for the right location, combined with ensuring all things taken through the TSA checkpoint at the airport comply with regulations, it's no surprise that most Americans choose to stay at their house for the holiday season. However, if you've chosen to travel in the coming weeks, those of us here at Dr. Ku's office want to make it easy and enjoyable. 
Plus, gritting your teeth in frustration isn't great for your jaw or pearly whites. Consider this your go-to travel guide on the "dos" and "don'ts" of packing and hitting the airport! Now, if only little elves would show up and help you finish everything on your to-do list…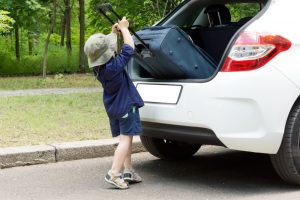 DO: Lay out everything you are taking before it goes in the suitcase 
Prior to jamming in all the presents and Christmas sweaters, lay out everything you think you want to take. Your bed should be ample space to eyeball it. Then, start consolidating. A week away doesn't require seven pairs of pants. If you are going to your family's house, consider doing laundry while you're there to limit the amount of clothing you're forced to take. If laundry isn't an option, layer your clothes. You can wear your outer layers multiple times. Whatever you think you need, you can probably get away with at least 20% less. 
DON'T: Bring the full–size toiletries—instead, opt for travel sized varieties 
First, if you plan to carry on your bag, remember the 3-1-1 rule that prohibits you from taking more than 3 ounces of liquid in a carry-on through the airport. Use this opportunity to experiment with new products from the travel size aisle at the store. If you hate the new shampoo, good news, it was only a small sampling. If you are checking a bag, still opt for the travel-sized options. First, it weighs less and takes up less space in your bag. And second, if it does leak, there is less to ooze all over the contents of your bag. 
DO: Lock your bag and add something to the handle for easy identification 
While we never like to think theft will happen, it is always a possibility, especially around the holidays when suitcases are stuffed with gifts. Purchase a TSA-approved lock to ensure your belongs are safe while they are out of your sight. Also, if you have a suitcase that looks like everyone else's, add a bright ribbon or luggage tag to the handle. This will help you pick it out quickly when it comes off the plane and will prevent others from accidentally taking your luggage. 
DON'T: Forget a travel kit for toiletries 
Consider carrying on your travel kit of toiletries with all needed medications, your tooth brush and toothpaste, and any other essential items should your bags not make it to your final destination. Traveling up north at this time of year can result in delays due to snow and ice, or cancellations that leave you stranded at the airport. Having these items with you can make your first days on vacation a little less miserable if your bags don't make it. 
DO: Bring patience and a good attitude 
The lines are long and we're all exhausted, schlepping all of our belongings through the airport. While rolling your eyes at the people who forget to take off their shoes in security, or making comments at those moving slowly, try to have a little patience this holiday season. We all want to get to our final destination, and doing it without any drama is the best way—hands down. 
Those of us at Dr. Ku's office hope you and your family have safe travels and a very happy holiday season. Leave us a comment if you have any other tips or tricks for travel!